Pat FAIRHEAD
Toronto - Muskoka

North of 70

solo exhibition
2009 sep 2 - 26
ANNOUNCEMENT POSTCARD


PRESS RELEASE


ARTIST'S WEBSITE

Prominent Canadian artist, educator and world-traveller, Pat Fairhead has been making pilgrimages to the North for the past twenty years and ventured as close to the Arctic Pole as you can get by ship.
In this solo exhibition North of 70 (September 2–26), Pat Fairhead will share her impressions of heart-breakingly beautiful icebergs, but also receding glaciers and unprecedented expanses of open water, witnessing the global warming.
* * *
Pat Fairhead is an elected member of the Royal Canadian Academy of Art, and an active (and of the first women!) member of the famous Arts and Letters Club of Toronto, following members of the Group of Seven. Pat Fairhead is considered to be one of the top woman watercolourists in Canada.
Pat is a Master of Arts graduate and also holds a Master of Education. She has painted full time for the past 30 years. As well as in private collections and art galleries, her work can be found in Windsor Castle and over 200 corporate collections.
Born in Yorkshire, England, Pat Fairhead came to Canada as a child. After living in Toronto most of her life, a few years ago she bought a house/studio in Muskoka. She continues to travel, paint, and teach the art.
OPENING RECEPTION
thursday, sep 3, from 3 to 5 pm,
the artist will speak at 3:30 pm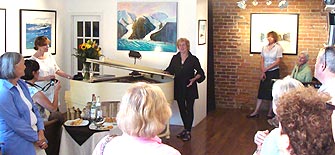 Gallery guests meet the artists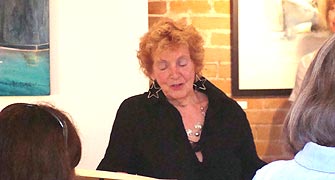 Artist Pat Fairhead speaks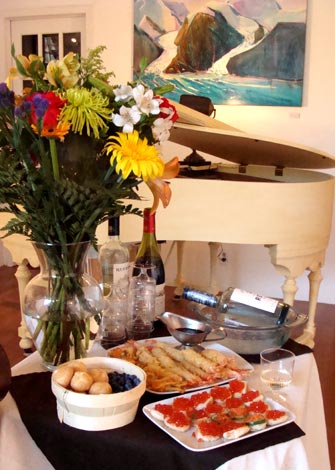 In congruence with the "North of 70,"
served were wild berries, salmon, red caviar,
and Island Vodka on ice
Pat FAIRHEAD
Ice Fog and Green Sea
watercolour on paper
22" x 28"
$ 2300

Pat FAIRHEAD
Ice Cap on Ellesmere Island
at 5 PM
watercolour on paper
22" x 28"
$ 2300

Pat FAIRHEAD
Bylot Island # 1
acrylic on canvas
36" x 48"
$ 4500


Pat FAIRHEAD
Devon Island Shore
watercolour on paper
23" x 30"
$ 2400

Pat FAIRHEAD
Devon Island
Ground Cover
watercolour on paper
22" x 24"
$ 2200

Pat FAIRHEAD
Light Show
on Devon Bay
watercolour on paper
23" x 30"
$ 2400

Pat FAIRHEAD
Sea Cliffs Under Ice
Devon Island # 1
watercolour on paper
22" x 28"
$ 2300

Pat FAIRHEAD
Ice Crusted. Devon Island
watercolour on paper
22" x 28"
$ 2300


Pat FAIRHEAD
Ellesmere Island
watercolour on paper
22" x 28"
$ 2300


Pat FAIRHEAD
Still Bay. Devon Island
watercolour on paper
22" x 28"
$ 2300


Pat FAIRHEAD
Wind Driven Sea Ice
watercolour on paper
22" x 28"
$ 2300

Pat FAIRHEAD
Ice Fog, Sunrise
watercolour on paper
22" x 28"
$ 2300



Pat FAIRHEAD
Ice Cap. Devon Island
watercolour on paper
11" x 13"
$ 1100