John KOKKINOS

CONNECTEDNESS

solo exhibition
2011, aug 17 - sep 3

ANNOUNCEMENT POSTCARD


PRESS RELEASE


ARTIST'S WEBSITE

RECEPTION WITH THE ARTIST
thursday, august 18
from 6 to 8 pm
| | |
| --- | --- |
| Word "Connectedness" is used in reference to the technological changes as they affect the human psychic – major theme of John Kokkinos' application of his complex multilayer painting technique. | |
Born in Athens, Greece, he graduated from the Special Art Program of Central Technical School in Toronto (1975). Since then, John Kokkinos experimented with sculpture and painted using various media, though his style remained very recognizable.

As a seasoned artist, John Kokkinos has exhibited in Toronto, Ottawa, Montreal, Vancouver, New York, etc.
His paintings are in the Canada Council Art Bank, art rental collection of the Art
Gallery of Ontario and private collections.
"…"My recent paintings reflect on the complexity of social and political issues. Human self-interest, needs, customs, traditions, and moral values are changing at an ever-increasing rate. This has brought stresses and pressures, at a cost to the psychological health and freedom of each individual. These changes as complex as they may be, are shaping our culture and each individual, in our changing environmental and technological world.


The painting is approached with many complex layers of paint to build texture, depth, and a subject, as it transcends through time. The many layers and images correlate to the environmental, technological, and social changes."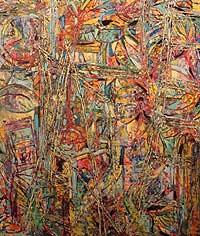 John KOKKINOS
Studio
acrylic on canvas, 57" x 48"
$ 5000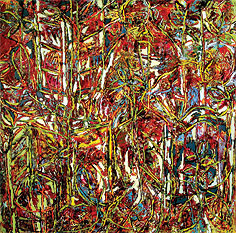 John KOKKINOS
The Room
acrylic on canvas, 53" x 54"
$ 4500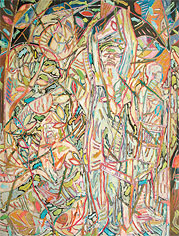 John KOKKINOS
Seven to Three
acrylic on canvas, 70" x 54"
$ 6000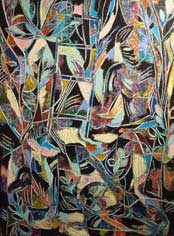 John KOKKINOS
Stairway
acrylic on canvas, 72" x 54"
$ 6000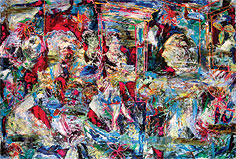 John KOKKINOS
The Studio 2010
acrylic on canvas, 46" x 67"
$ 4500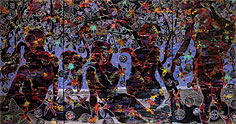 John KOKKINOS
Patterns of Paradise
acrylic on canvas, 58" x 120"
$ 10 000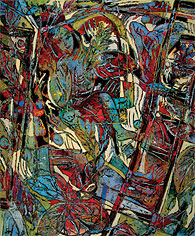 John KOKKINOS
Vibrant Ascenr
acrylic on canvas, 65" x 53"
$ 5000

John KOKKINOS
Vigny's Stello
acrylic on canvas, 66" x 30"
$ 4000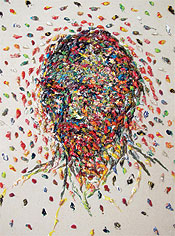 John KOKKINOS
Vincent
acrylic on canvas, 24" x 18"
$ 1000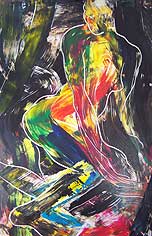 John KOKKINOS
Indirected Tension
oil on board, 47" x 31"
$ 3000