To name a few galleries out of Canada, Valeria exhibited her painting, batik and tapestry in Tokyo Metropolitan Museum of Arts (Japan), Frankfurt Messe (Germany), Chagall House (Israel), Krimsky Most Gallery (Russia), Monserart Gallery (NY, USA), Los Gatos Museum of Art (CA, USA),
At age 19, Valeria earned her first professional artist's diploma from the Industrial Arts College; at 26 she got a master's degree in applied arts from the Moscow State Textile Institute. Since then, Valeria happened to change cities and countries before she settled in Toronto (Canada), but through all the years she was doing what she does the best – turning a plain fabric into the Art.
Some critics find her paintings to have a delicate touch of classical Russian constructivism; Some emphasize a flavour of interesting multi-cultural "symbiosis"; Some point to her expressive freedom of sharing how she feels… Perhaps all this appears fairly true. However, there still seems to be a bit of an intrigue around Valeria's paintings. One gripping detail could be probably exposed in this context:
When you see more of Valeria's oils, an odd idea emerges: She does not actually "paint on canvas" – she "paints the canvas."
* * *
Opening Reception:
July 29, Thursday, 4–8 pm

gallery window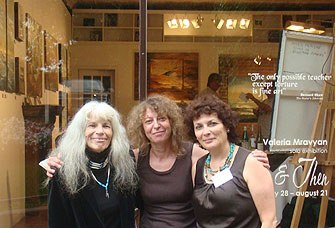 Linda (gallery guide), Lena (gallery director)
and Valeria (the artist, right)
in front of the gallery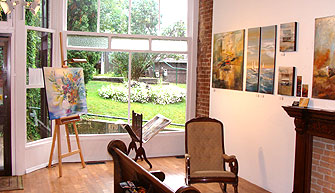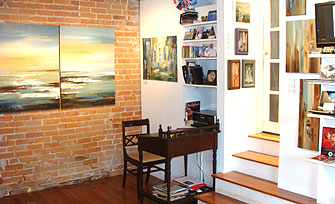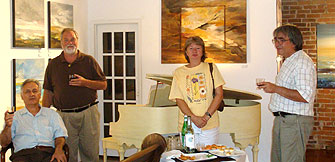 Muskoka residents enjoy the show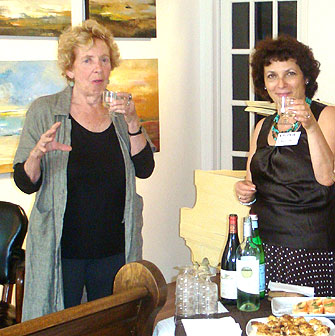 acknowledged Canadian artist Pat Fairhead,
currently residing in Muskoka,
greets Valeria Mravyan (right)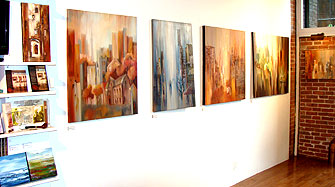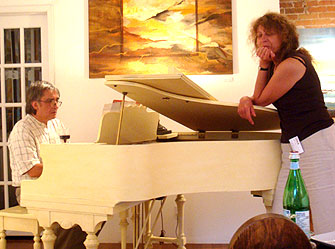 gallery curator and director intertain the guests

Click on immages below to enlarge
Valeria MRAVYAN
Town on the Hill
Oil on canvas
36" x 36"
$ 3000

Valeria MRAVYAN
City on the Shore
Oil on canvas
36" x 36"
$ 3000


Valeria MRAVYAN
After THE WORD
(Re: The Gospel: St. John, I)
Oil on canvas
30" x 36"
$ 2700
Valeria MRAVYAN
Before the Blizzard
Acrylic on canvas
8" x 8"
$ 180


Valeria MRAVYAN
Wind
Oil on canvas
36" x 48"
$ 4000

...

...

Valeria MRAVYAN
Seasons (1, 2, 3, 4)
Acrylic on canvas
24" x 24" each
$ 1400 each


Valeria MRAVYAN
Regatta
acrylicl on canvas
36" x 12" each
$ 800 each


Valeria MRAVYAN
Far in the Sea
acrylicl on canvas
16" x 8"
$ 200

Valeria MRAVYAN
Sea
acrylicl on canvas
16" x 8"
$ 200



Valeria MRAVYAN
My Dream
Oil on canvass
36"x48"
$ 4000

Valeria MRAVYAN
Lonely Rain
Oil on canvas
36" x 24"
$2500

Valeria MRAVYAN
Old City
Oil on canvas
16" x 8"
$250

Valeria MRAVYAN
Fall City Melody
Oil on canvas
36" x 30"
$2700

Valeria MRAVYAN
My Dream City
Oil on canvas
36" x 36"
$3000

Valeria MRAVYAN
Spring in the City
Acrylic on paper, boarded
22" x 30"
$650


Valeria MRAVYAN
Summer Fog
Acrylic on paper, boarded
19" x 27"
$ 550


Valeria MRAVYAN
Acrylic on paper, assorted
from $375 to $450


Valeria MRAVYAN
Streetlamp 1
Acrylic on canvas
16" x 8"
$ 250


Valeria MRAVYAN
Streetlamp 3
Acrylic on canvas
18" x 14"
$ 580


Valeria MRAVYAN
Streetlamp 2
Acrylic on canvas
24" x 8"
$ 400


Valeria MRAVYAN
Summer Meadow
Acrylic on canvas
8" x 8"
$ 180


Valeria MRAVYAN
Blooming Flowers
Oil on canvas
30" x 40"
$ 3700


Valeria MRAVYAN
After Winter
batik, silk, 80 cm x 70 cm
$ 700


Valeria MRAVYAN
Last Summer Lagoon
batik, silk, 70 cm x 70 cm
$ 650

Valeria MRAVYAN
Last Birds
Tapestry, 22 cm x 24 cm
$1200 (framed)


Valeria MRAVYAN
That Town
Tapestry, 23 cm x 14 cm
$1200 (framed)

Valeria MRAVYAN
The Candle
Tapestry, 25 cm x 14 cm
$1200 (framed)



Valeria MRAVYAN
Tree
Tapestry, 23 cm x 14 cm
$1200 (framed)


Valeria MRAVYAN
selected prints
$ 100 each

To find which works of this artist
are available today in the gallery
check Catalogue