CHANCERY REGATTA '09
Sunday, July 12
Annual sailing regatta
on Lake Muskoka, Ontario, CANADA

MISSION
• raise awareness of green navigation practices
• encourage environmentally friendly boating
• promote sailing as "ecological psychotherapy"
• persuade Sailing, Art & Sanity
PRESS RELEASE


ANNOUNCEMENT CARD


PUBLICATION


NEXT YEAR 2010 REGATTA

POLICY
Both Muskoka and out-of-Muskoka sailors are invited to participate. Sailboats of any types, classes and sizes are welcome. Chancery Regatta is a friendly, non-competitive race. No registration fee, no selection, no obligation. Sail on your own risk and pleasure.
PROGRAMME

Muskoka – "The Malibu of the North"


Eleanor Island


Taboo Resort


.Chancery Regatta '09 chart


Satellite map of the area
• On Sunday, July 12, right before noon, all the sailboats meet at South Bay of Muskoka Lake circling around the Eleanor Island (coordinates: 44°59'0"N & 79°23'25"W). No landing on the island, though – it is Canadian heritage, ecological pride, famous bird nesting sanctuary...
• Start. At noon, on the bell signal, Regatta starts: all boats begin to race towards the Taboo Resort – print the chart for your guidance


• To repeat: the race is non-competitive – sail in you most pleasant pace. Under usual conditions it will take about one hour from start to finish
• Finish. Dock at Taboo. You will be greeted with a drink of Champaign by the crew that has arrived just before you. Therefore, be prepared to carry on board a small bottle of Champaign to cheer the sailors who finish right behind you. Crew of the last arrived boat will praise the first, fastest boat of the Regatta. (Ontario regulations of legal drinking age apply; brown bag would be practical)
• Sailboat Show. Invite the Taboo guests and other sailors on board; enlighten them regarding the history of your sailboat; show photos and maybe even play videos of your past sailing adventures
• Lunch in Taboo at the Boathouse Bar & Grill with beautiful Muskoka Lake view and exceptional casual menu
• Pleasant afternoon sailing away...
PHOTO REPORT `09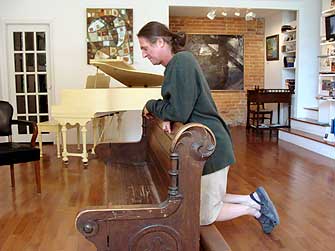 Day before: July 11, Saturday, Chancery Art Gallery.
Chancery Regatta has been postponed due to a thunderstorm.
Peter is probably thinking how he will be sailing his 8-feet wooden mini boat in such weather tomorrow... Next day, during the Regatta, even mature sailors called it "crazy" watching his fight with waves and gusts. But Peter is tough, and his painting "New Moon Sailing" (on the brick wall behind him) also came from his own
extreme sailing experiences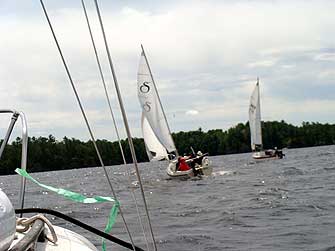 It was a rough regatta with wind gusts of 21 knots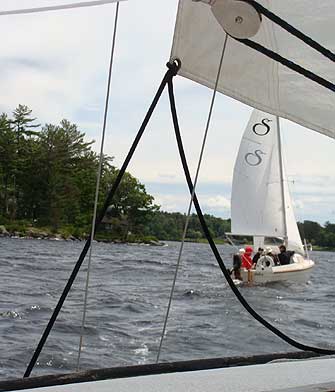 Although Chancery Regatta is "non-competitive,"
the human nature called for a real race...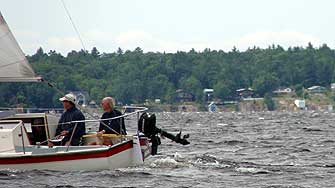 Captain Bill with 50 years of the ocean sailing experience
and his crew confidently lead the Regatta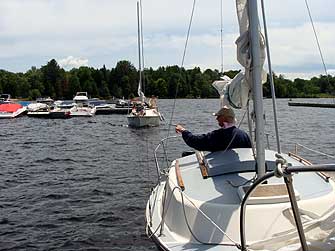 As the leader of the Chancery Regatta '09,
captain Bill helps other yachts to dock safely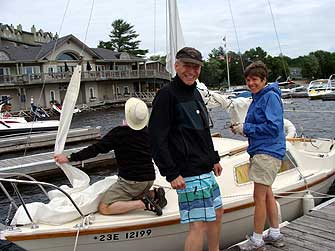 It is nice to be on even semi-firm ground of a dock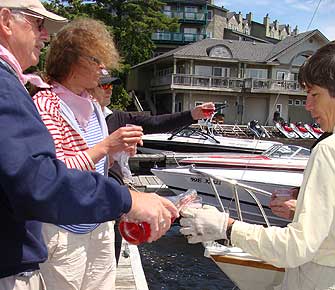 Finish with lots of Champaign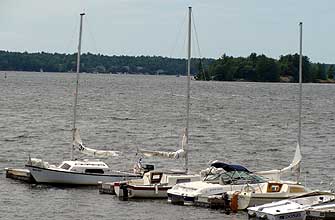 Perhaps Taboo has never seen
three high masts at once on its docks...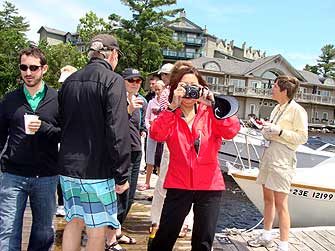 Sailboat Show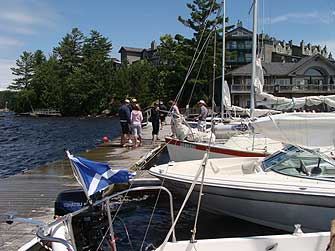 Time for after-regatta lunch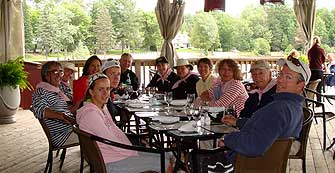 13 sailors of the Chancery Regatta '09
have a lunch in Taboo at Boathouse Bar & Grill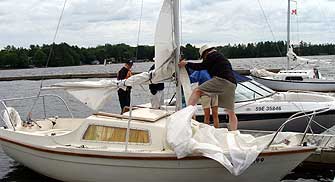 Captain Walter makes last adjustments before departure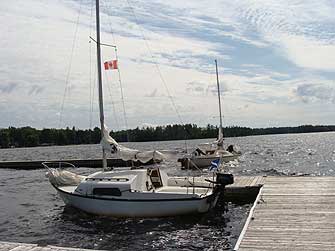 Sailing home from Taboo docks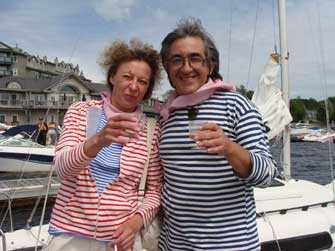 Lena and Paul, founders of Chancery Regatta
and Chancery Art Gallery
invite the sailors for the next year race (July 10, 2010)
Get together again next week, July 18 at the Gathering with Sailors to share your photo slides, films and yachting stories; enjoy "Coming About" – art exhibition of paintings on the sailing matter; promote your business if it is somehow related to sailing or other "green" practices; drop by for other interesting events of the Chancery Sailing Festival during July
Yachting links: