Inge Kjeldgaard
TAJIK

PAST
PERFECT
CONTINUOUS

solo exhibition
2011, july 27 - aug 13

ANNOUNCEMENT POSTCARD


PRESS RELEASE


ARTIST'S WEBSITE

RECEPTION WITH THE ARTIST
thursday, july 28
from 6 to 8 pm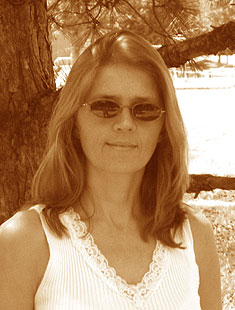 Inge Kjeldgaard Tajik is a professional award winning artist whose work can be seen in private collections across Europe and North America.
Born in Denmark (1965), she graduated from The Funen Academy of Fine Art (1992). Her teachers were Bendt Veber, Ejler Madsen, Lotte Olsen, Anders Kirkegaard, Rene Tancula Nielsen, Jes Fomsgaard. Andrew Wyeth was also a source of her inspiration.
Inge's native Denmark – a small green country surrounded by the ocean where winds blow at least 300 days of the year – continues to stimulate her art:
"Growing up in the countryside, the earthy colours have stayed with me. Nature up close intrigues me because of its strong structural buildup and the many forms it comes in. The mere fact of growing creates beautiful shapes and forms, like sculptures they appear. … Colouring with watercolour makes it an ever lasting struggle to get the form right without ruining the colour."
In Inge's painting, it is exciting to see what is actually possible for one to create with just water and a few pigments, when combined with real virtuosity of detailed drawing, washes and drybrush techniques.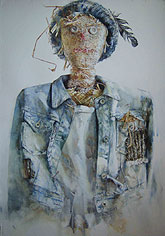 The Silent Scarecrow
watercolour, 36"x 24"
framed 45"x 33"
$2800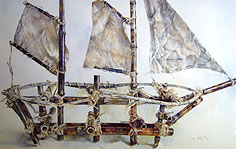 The Ship of Broken Dreams
watercolour, 23"x 38"
framed 35"x 50"
Price: $2800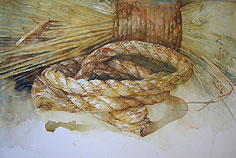 Apples
watercolour 28"x 20"
framed 36"x 28"
$1000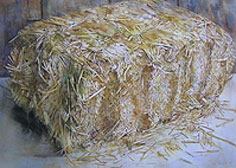 Hay bale 3 (In the Loft)
watercolour 20"x 28"
framed 30"x 37"
$1100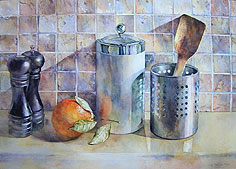 Peaceful Morning
watercolour 20"x 28"
framed 29"x 37"
$1000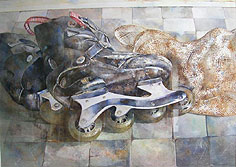 Waiting for Spring
watercolour 20"x 28"
framed 30"x 37
$1300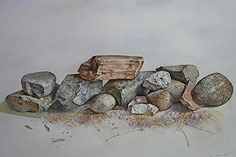 Rocks
watercolour 18"x 27"
framed 28"x 37"
$900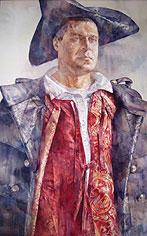 The Solemn Sea Captain
watercolour, 38"x 23
framed 45"x31"
$2800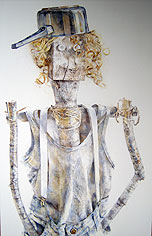 My Imaginary friend
watercolour, 38"x 23
framed 45"x31"
$2800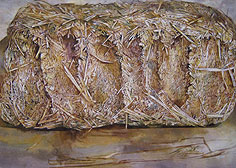 Hay bale 2 ( Straw by straw)
watercolour 18"x 26"
framed 27"x 34"
$1200