"The only possible teacher
except torture
is fine art"
Bernard Shaw, The Doctor's Dilemma
PREAMBLE
It is not a secret: arts improve health. The British Medical Journal recently provided another valuable argument to support this claim. It even suggests that a diversion of a small portion of the health budget to the arts would probably increase the health of the population. A tempting idea indeed
However, the general public seems to be in ignorance: the Canadian Forum on Arts and Health found that most people are still not aware of the benefits of the arts in relation to health and well-being
ARCANUM
" ..The one thing which may in some degree
reconcile the cultured person with life –
scientific and artistic enjoyment..."
Eduard von Hartmann, Philosophy of the Unconscious
| | |
| --- | --- |
| From the Freudian view, arts derive from the same source as fantasies and dreams, and have the same purpose – to reduce tension in the soul. This applies to both creation and perception of the art, regardless of modality – painting, sculpture, literature, music, dance, etc. | |
Thus, in some respects artists are not special – like the rest of us, they have the same narcissistic desires and fantasies, rather shameful to share under our cultural restraints. But unlike us, artists have a very special gift – they are able to exhibit their fantasies in a skilful, camouflaged way, and to attract us first with the external, formal side of their work. It traps us, provoking a preliminary, properly aesthetic pleasure, turning our internal "censor" off guard. And then, it enables us to enjoy our own deep prohibited fantasies – projected on the art – without shame and self-blame, with revealing catharsis
How are artists able to do this? It's their mystic secret;
it's art.

MISSION
Piece of pie to the artists,
Peace of mind to the rest of us
THEMES
Besides the solo exhibitions of contemporary fine art, the gallery offers annual thematic shows:
• SPRING. Acknowledging Freudian Psychoanalysis as the most profound metaphor ever offered for the comprehension of human behaviour, spring exhibition Ladies - First presents artists' free associations on Unconscious Drives, Basic Instincts, Inter-Personal Conflicts, Libido, Love, Dreams, etc.


• SUMMER. Recognizing Therapeutic Recreation as an effective treatment modality, summer exhibit Coming About is all about sailing – one of those activities that make us feel better mentally and emotionally without cheap Prozac or expensive therapy


• FALL is not an easy season for many: back-to-work depressions, psychotic de-compensations, increased suicides... Perhaps not surprisingly, October is the International Mental Illness Awareness Month. Exhibition Déjà Vu is the gallery's post-season retrospective
• WINTER – time of falling stars, realisation of mortality and philosophical reflection on life. In a broader view, all human existence is nothing but Narrative, anyway. So far, "Fairytale" is a generic icon for the winter show "From the Gallery Collection"
HERITAGE
Back in the 19th century, a tiny walking lane was designed to connect the Court House with the main street of downtown Bracebridge. Perhaps not surprisingly it was named "Chancery," thinking of Chancery Lane in London, UK – the "lawyers district"
Today the Court House is still operational and lawyers' offices continue to function on and around Chancery Lane. Besides, word "chancery" possesses connotations that lead somewhat beyond just a Law, considering the initial Chancery Court of 15th–17th centuries in England and Wales, which specifically dealt with behavioural issues from the perspective of the human sense of Fairness and Equity – concepts of the Conscious. Thus, we were both historically and linguistically pre-determined to preserve this "chancery" touch while choosing a name for the gallery owned and curated by two psychology doctors on the Chancery Lane
With respect to the spirit of the 19th century building in historical Bracebridge, it felt like an obligation to throw down its convenient modern "drop ceiling" in order to expose the charm of its original metal tiles underneath. Old masonry containing traces of the building's story on its bricks was also appealing for emancipation from layers of stucco, paint, drywall and paper. Pieces of antique furniture of the period were re-introduced on the floor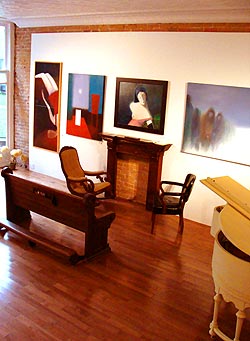 At different points of the past centuries, various enterprises were located in this house, such as a Tobacconist Shop, Book Store, and the famous Shelly Bistro. Now here is a Gallery. Yet, with the temptation of keeping with historical continuation in the old town, there is an attempt to recreate an allusion to the past. Thus in the gallery you still may buy a book, a cigar, or some fine chocolate. Understandably, though, here you will only find items

associated with Art & Psychology and linked to the decadence of the bohemian Montmartre at the turn of the previous centuries
The town's legend offers that several ghosts inhabit the area. Moreover, the popular Bracebridge Ghost Tour that starts at the Inn-at-the-Falls and continues beside the Court House through Chancery Lane

to the main street. Thus, the gallery happens to occupy a recognised "haunted house." Without going into details of believers and related experiences, the gallery reserves a shelf for books on the topic and opens its doors to Ghost Tour visitors, even after hours. A "Ghost Reading" takes place in the gallery on the Halloween Night

and

PHILANTHROPY
• In the gallery, free of charge, school and university instructors conduct their art classes
• Writers give new book presentations
• Musicians gather an audience for a concert
• Young artists' multi-media festival Ardour Eruption is an annual charitable project of the gallery


• On occasion, the gallery selects and brings to Muskoka international highlights from Toronto Art Expo
• Multi-media Sailing Festival

along with Chancery Regatta

in July is also a philanthropic action of the gallery for support of "green" philosophy and clean waters of Muskoka
• Another "green" initiative – annual celebrarion of the Earh Hour on the last saturday of March
• For the public, the gallery is accessible admission free, including "by appointment" arrangements
• Through its web site, the gallery promotes local businesses, attractions, and events – over fifty links are listed on the LOCATION page without expectation of "link exchange"
• A portion of the revenue from sales of certain artworks is assigned for the animal shelter of Bracebridge as our lepta for those who happen, in a sense, to be even more vulnerable than artists. All empty bottles accumulated in the gallery are also donated to the animal shelter
• The gallery does not charge artists for exhibiting their works – only if an art is sold, the gallery retains a commission
• Occasionally, for "artist-in-crisis" a consultation is offered pro-bono in the gallery-affiliated psychology office on premises

SPONSORS
Some people believe that Chancery Art Gallery is a "public gallery" funded by the municipality… Although it might be a nice compliment, but in fact, it is a private independent commercial gallery that operates on its own without external subsidy. Nevertheless, for support of the charitable projects listed above, outside contributions will not be declined without consideration
FELLOWSHIP
Owner and director of Chancery Art Gallery, Lena Kolobow holds a doctoral degree in psychology and has years of University teaching, academic research and clinical practice (including art therapy) in Russia, USA and Canada

GALLERY IMAGES

According to a prominent Toronto
The BAY STREET BULL magazine
(Luxury Travel, Golf, Automobile, Restaurants,
Fashion and Book Reviews)
Muskoka Edition 2011, pp. 22-25
"... This tiny, out-of-the way gallery
may be Bracebridge's best kept secret
and one of the best places to enjoy great art
in Ontario"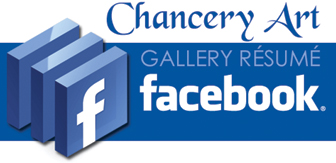 | | |
| --- | --- |
| ANNUAL EVENTS & GATHERINGS | |