CALL FOR ARTISTS
GENERAL POLICY
Chancery Art Gallery is a commercial gallery which accepts original works of contemporary fine art on consignment and acts as the artist's agent for exhibition and sales with exclusivity limited to
Muskoka
district of Ontario, Canada
Gallery offers mostly personal (solo) exhibitions. From available artwork of the selected artist, Gallery chooses certain pieces and then designs a show with original title and adequate musical background. Each exhibition normally continues for three-four weeks
For each exhibition, gallery does installation and dismantling; provides the Internet listing; designs and prints announcement post cards, price lists, signs and labels; arranges private invitation mailing and press release; supplies liquor permit, cocktails, hors d'oeuvres and musical arrangement for the opening reception; provides adequate display of artwork and gives a non-stop slide show of artwork temporarily located in a climate-controlled storage on premises; organises security, sales, and shipping to purchasers


EXHIBITION POSTCARDS
Delivery of artwork to the gallery and return to the artist, term of consignment, currency of payment, gallery commission, trade discounts, limited exclusivity, etc. – subject to Contract

ANNUAL EXHIBITIONS
• Ladies - First, annual exhibition dedicated to March 8 - the International Women's Day (in-gallery celebration on March 8, 5-8 pm). Considered will be artworks somehow related to women and love. All art forms and medias are welcome (including abstracts, photography, filmmaking, poetry, music, etc.) Submissions for 2018 show are accepted
• Déjà Vu, annual selection from the International Toronto Art Expo – for art collectors who manage somehow to miss this one of the greatest Canada's cultural events in March. This is a "curator's pick" show – no submissions are accepted
• Ardour Eruption, annual festival of YOUNG artists with intention to support the rather exclusive number of young Canadians who sincerely believe that "Art Matters." This 10-day festival in May feautures painters, photographers, poets, musicians, filmmakers, etc. Submissions for 2018 festival are accepted

• Coming About, annual group exhibition on the sailing matter in July, central feature of the annual multi-media Chancery Sailing Festival for promotion of green philosophy through Sailing, Art & Sanity. All art forms and medias, including abstracts and photograpfy are welcome. Submissions for 2017 show are accepted

. In addition, sailors with sailboats and yachts of any sices are invited to sail together in annual Chancery Regatta in support of the "green philisophy"
• Lazy Cottager, September retrospective of the past summer exhibitions – for those Muskoka summer residents who finally managed to leave their lake cottages, golf courses, tennis courts, yacht clubs, etc... This is a "curator's pick" show – no submissions are accepted
• Exhibitions offered and Sponsored by non-profit organizations will be also considered (e.g. for brighter celebration of Canadian Native Heritage in November, Black Heritage in February, etc.) Offer your proposal

• Solo Exhibitions (3-4 weeks). Submissions for 2017 - 2018 are accepted.
For ethical reason (to avoid unneeded competition with various exhibition places in Muskoka) Chancery Art Gallery is inclined not to exhibit *
• artists who have been already shown in Muskoka;
• artwork with traditional local motifs (like Muskoka Chair, Red Canoe, Loon, Moos, Landscape, Flowers, etc.);
• abstract painting and photography are also avoided
..... -------
..... * except for annual shows
...... "Coming About" and "Ladies - First,"
....... where ALL artists and ALL medias
....... are accepted for submissions
APPLICATION INSTRUCTIONS
To be considered for exhibition and sale, the artist shall submit to the gallery (1) digital images of his/her available artwork, (2) bio, and (3) any other relevant information.
The following data should be included for each artwork:
(a) title, (b) year, (c) medium, (d) size, and (e) suggested retail price (which is expected to be the SAME as in the artist's private sales from his/hers studio and the Internet)
Submission methods: flash, DVD or links
No graphic e-mail attachments, please
Upon receiving the submission and its consideration, the artist will be informed regarding gallery's further intention. If artist wishes the submitted CD to be returned, an appropriate self-addressed stamped envelope should be provided
GALLERY SPACE
Gallery occupies the ground floor of 19th century house facing a tiny walking lane right off the downtown main street – a street mall for nice shopping and fine dining. High 11-foot ceiling is covered with its original metal tiles; Walls combine old red brick and modern white plaster; Hardwood floor; Pieces of antique furniture of the period and antique baby-grand piano (functional) give a theatrical resemblance of a habitable hall as it was a hundred years ago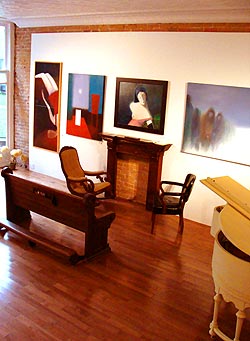 Usually there are from 12 to 30 artworks exhibited at one time. This solo exhibition contained 17 paintings

. Here are photos of a group show that offered 29 paintings

ARTISTS
Artists from the following countries have been exhibited in the gallery so far:



















GALLERY ARTISTS
solo exhibitions
group exhibitions –
some of the above artists and
young artists
from annual art festival Ardour Eruption:
2008, 2009, 2010 2011 2012
Muskoka artists
of The Tuesday Group, 2011
Some artists were also presented and promoted by Chancery Art Gallery at
• ExpoArt Montreal 2008
• Toronto Art Expo 2009 2011
• Muskoka Theatre Project 2007
• Rene M Caisse Theatre 2007, 2008, 2009
• Best Bloomin' Muskoka Show 2008
• Savour Muskoka 2009 2011